A Reverse Calabash by Jerry Zenn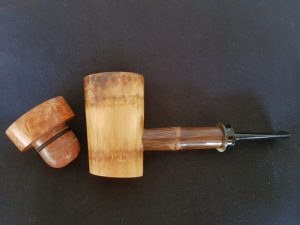 This is a reverse calabash by Jerry Zenn, pipe maker from Kaoshiung, Taiwan. Click on this.
I'm so grateful he made this pipe to give me.
Jerry uses a combination of materials to make this unique pipe: aged briar, vintage Taiwanese bamboo and horn, mainly.
This is the third reverse calabash he has ever made and I'm extremely pleased with it.